FESTIVALS  &  CELEBRATIONS
Celebrations at the Art of Living are rejoiced by performing the Yagnas and Homas in line with Vaidic traditions, which uplift the spirit, bring prosperity and nullify misery, sorrow and pain; dawn solace and peace on the whole world. People from all walks of life join the celebration and experience the ultimate joy and happiness. Such celebration revives the emotions, rejuvenates the spirit, and refreshes the knowledge.
KNOW MORE ABOUT OUR CELEBRATIONS
You can celebrate the events and festivals the Vaidic way. Celebrate the Festivals at all the locations across India. Get in touch with our State Coordinators or Volunteers to celebrate festivals the Vaidic way in your hometown.
Shravan Maas
Shravan Maas (month) is considered to be the most auspicious month in the Vaidic calendar. It usually corresponds with the months of July and August. This month of the year, Cosmos is believed to be highly charged with Shiva element and thus the small effort yields amplified effect in purifying body, mind and senses.  During Shravan Maas, Rudra pujas are performed all over India and is considered to be a very favorable time to dive deep within one's Self.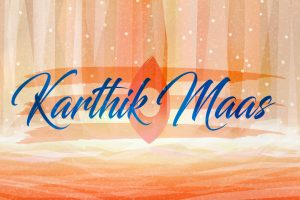 Karthik Maas
Karthik Maas is the 8th month in the Hindu Lunar calendar. It usually falls in the month of October/November of English calendar. In this Month Lord Shiva and Maha Vishnu are worshipped. Devotees during this month observe strict rituals, fast, visit temples and perform pujas. According to puranas by engaging in the religious activities during this month not only ensures freedom from suffering and pain and bestows prosperity and health but also liberates one from the cycle of birth and death.
Find out more
Chaitra Navaratri
Chaitra Navratri is celebrated in the month of Chaitra as per Hindu Calender, commencing from the first day of Shukla Paksh and culminating on the ninth day, on Ram Navami. It falls at the cusp of spring and summer. Lord Rama was born on the ninth day in the month of Chaitra so this Navratri is also celebrated as Ram Navratri. These nine days are considered to be very beneficent by the devotees of the mother divine and they perform homas and pujas to appease nine forms of Shakti (Devi). These pertinent practices awaken the dormant energy and foster peace and happiness.