"MARRIAGE IS A COMMITMENT TO SHARE AND CARE. SHARE ONE'S LIFE AND CARE FOR THE OTHER"
-SRI SRI RAVI SHANKAR
Marriage or Vivaha is one of the 16 samskaras stated in the Vaidic tradition and is celebrated with a number of significant Vaidic rituals and procedures.
Vivaha fulfils the three goals: Dharma- duties towards one's family and society. Prajana- begetting of progeny and Shraddha- to perform necessary rituals with a feeling of faith.
Gurudev sharing some beautiful insights on how to spend married life happily
Vivaha marks the beginning of Gruhastha Ashram, which is the second phase of life. After Vivaha one enjoys fulfilling the responsibilities. In Vaidic tradition, Gruhastha ashram supports, nurtures and beholds the other three phases, viz., Brahmacharya, Vanaprastha and sanyasa.
A married couple takes charge of their household, extends family by begetting children, and nurtures a cohesive family.
Have a look at this video to get a glimpse of Vaidic Vivaha ritual and get a glimpse of Wedding at Ashram
Our Uniqueness
Passionately committed to enhance your Wedding into a grand celebration in the Vaidic Style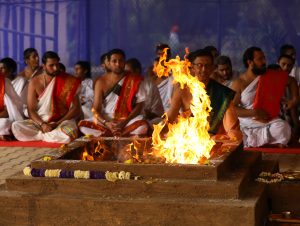 Our Pundits
The learned pundits (Vaidic priests) conduct the ceremonies in an authentic way. They are proficient in Vedas and other sacred scriptures, equipped to perform all sixteen samskaras as prescribed in the scriptures. The Vaidic Yagnas (fire ceremony) performed during wedding ceremony invoke the Devatas (God).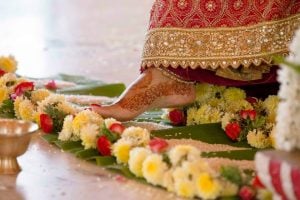 Sapthapadi
One of the most important rituals that creates a loving bond between the bride and the groom, is "Saptapadi" - Seven steps along with seven eternal oaths taken in the presence of their elders and beloved. The pandit chants and explains the seven oaths and the bridegroom accepts and that means - we have walked seven steps, become companions, and friends, and from now on we shall live virtuously together, inseparable. He takes an oath that the bride shall not be bypassed in terms of Dharma (Virtues), Artha (means of life), Kama (Desires) and Moksha (Liberation).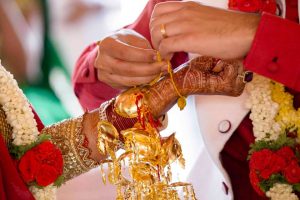 Significance
Vaidic wedding is based on love, absolute trust, mutual affection, the capacity to adjust and the sharing the responsibilities. At every stage of the wedding ceremony, the Mantras from the Vedas are recited and prayers are offered to insure a smooth and happy life. The duties are assigned to both bride and groom and both are also given certain liberties too. The union being sacred, wedding is irrevocable and everlasting.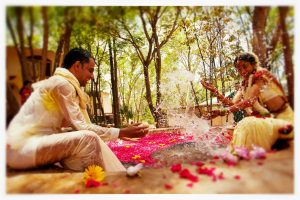 Gruhastha Ashram
After wedding ceremony the couple enters into Gruhastha Ashram. Gruhastha Ashram is the second stage of life – the householder stage – when newlyweds start their house hold. They enter into the relationship of a husband and wife by taking the vows of staying together in their pursuits of dharma, artha, kama and moksha. It is only after wedding the institution of family is nurtured and maintained.
Wedding - Types
The different types of weddings that we conduct at Ashrams and other Locations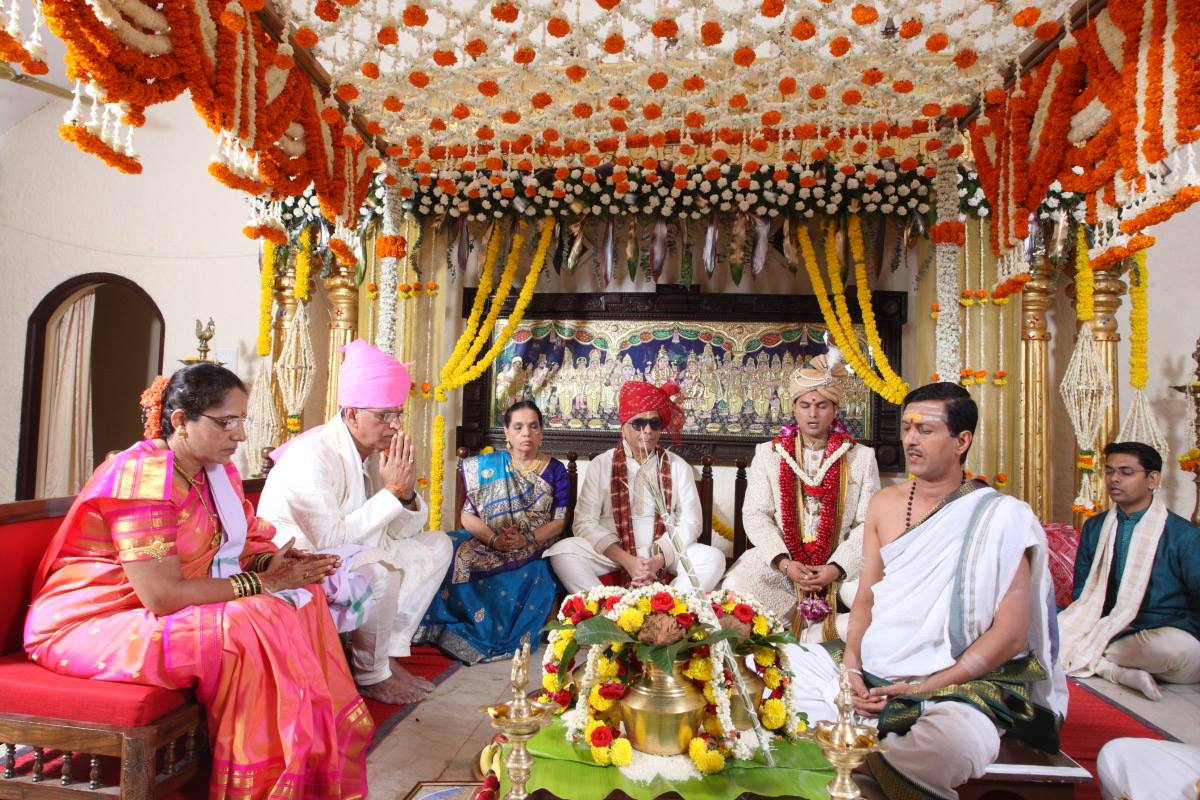 Vaidic Vivaha
Vivaha, a Vaidic Tradition, fulfils the three goals: Dharma - duties towards family and society. Prajana - begetting of progeny. Shraddha - to perform the rituals.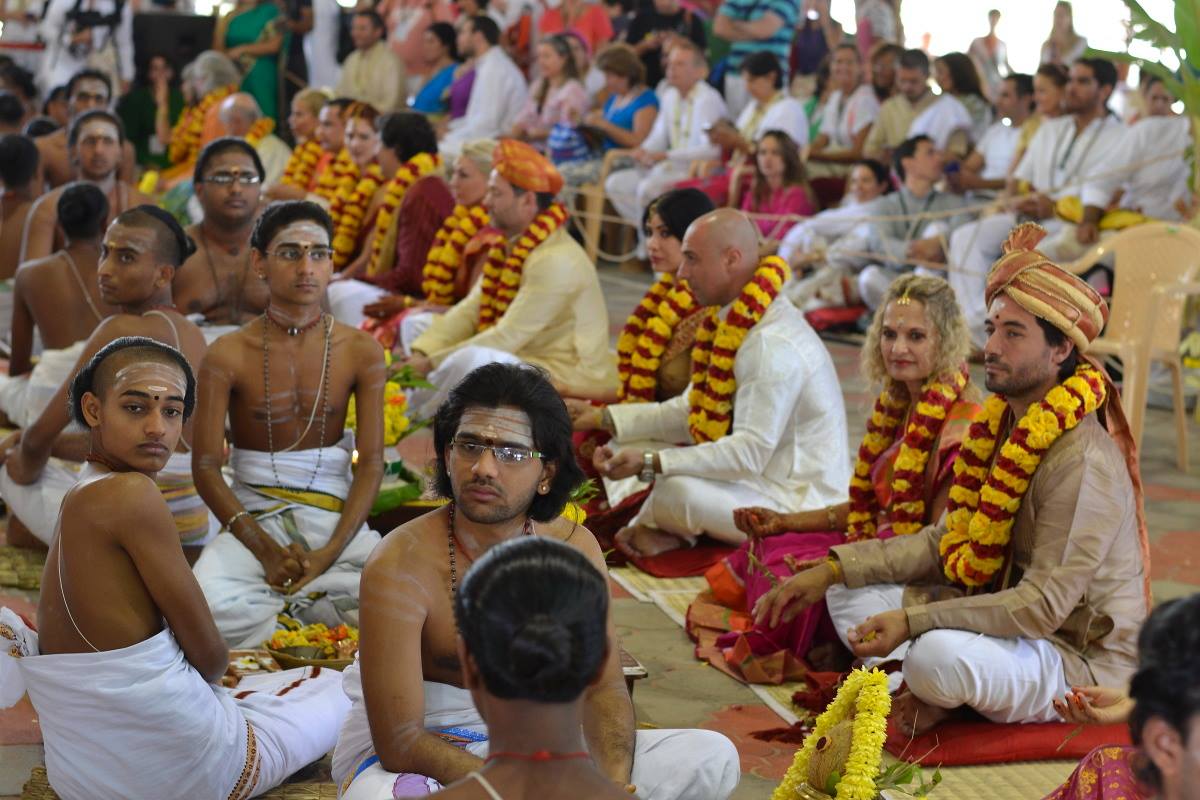 Samoohik Vivaha
Samoohik Vivaha, as the name indicates multiple couples get married on the same venue and at the same time. It is usually organized on some auspicious day.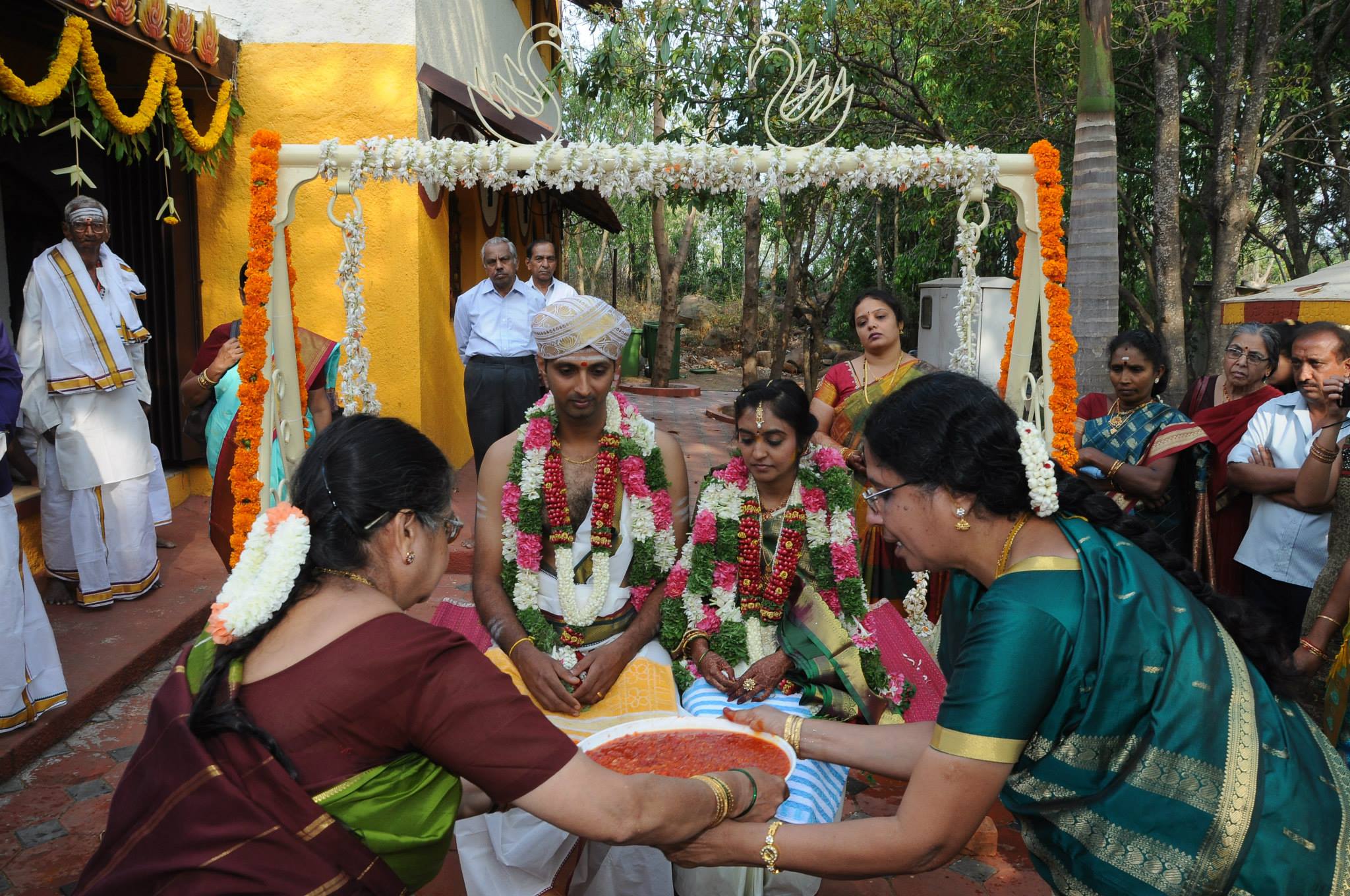 Vivaha at your Town
We can also organise wedding ceremony for you in your own city in consonance with pure Vaidic traditions by our trained pundits. Now you can enjoy the Vaidic wedding ceremony and celebrations in your home town with your family and friends.
Our Specialities
Plan the weddings of your loved ones at the Bangalore Ashram, in its serene ambience, and the seamless arrangements by our experienced and dedicated team – Committed to making your Marriage a celebration.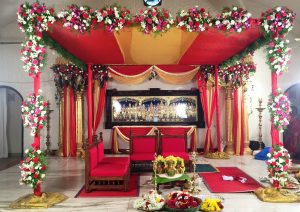 Serene Venue
We provide you with four Marriage Venues in the Bangalore Ashram, nestled majestically in 40 acres of exotic landscape, with whispering hills, dazzling water bodies, halls adorned with lovely flowers. With our adept arrangements and facilities you will be pampered with a relaxed and majestic wedding.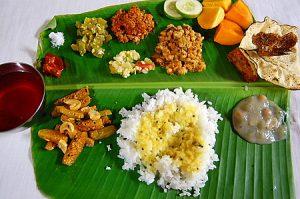 Satvic Food
Our Wedding's sattvik culinary offerings give immense satisfaction to the guests. We offer the best vegetarian catering services with the finest quality of food. Here, we offer an elaborate menu of the 75 delicious dishes which have been time and again appreciated in all the weddings. With food playing such an important role in the overall wedding experience, cuisine is given substantial attention.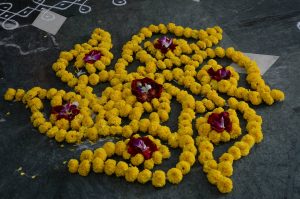 Decorations and Photography
Wedding stage decor creates a lasting impact of your wedding. It is the centre of attraction during the entire wedding ceremony, so it needs to be handled with finesse and an eye for details. We create beautiful and exclusive decorations for the stage and the mantap. Our photographers are proficient in capturing every cherished moment aesthetically.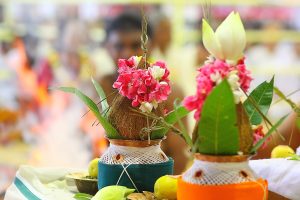 Services
We are specialized in providing all services at ashram including travel, porter, bridal services, entertainment plans and many more all under one roof. We feel excited to help you plan multiple wedding events like roka, sangeet, haldi and other ceremonies
Gallery
Beautiful photo gallery of our various Wedding Rituals, decorations and Venues
FAQs
These FAQs will help you to address most of the common queries.
What are the Document Proofs that has to be submitted?
Any one of the following Government provided ID Proof i.e Aadhar card, Pan card, Driving License, and Passport has to be submitted for both the Bride and Bridegroom before the Wedding.
What are the cost of various venues?
Please fill the enquiry/booking form with the details or you can register yourself at https://vaidicpujas.org/register. After successfully registering and login, you can then access the Venue packages cost
Is there parking available near your wedding venue(s)?
Yes parking facility is available. Fill your guests in on all the parking info and options available including whether they can leave their car overnight.
What type of food will be served at wedding?
Sure you want there to be some surprises at your wedding, but providing guests with a few menu details will help them plan accordingly. We will have the facility for only Vegetarian Food. There are no options for Non-Vegetarian Food. Liquor or cocktails are strictly not allowed.
Is the ceremony wheelchair accessible?
If you have guests who use wheelchairs or other aids, make sure your ceremony is accessible. Most traditional wedding venues and places of worship are built with accessibility in mind. If there are stairs at your venue, you can check that there are ramps and elevators available. If your ceremony is outdoors, make sure that there are walkways and ramps in place, to make sure all of your guests can arrive safely.
Is it ok to post the photos on social media?
Depending on your guests, you might have a hard time stopping them from posting pictures! You can always make the request, though.
Sometimes guests are more willing to cooperate if you give them a timeline. For example, you could ask that no one posts their pictures before you've had a chance, then add a date for them to go ahead.
How Much Does a Wedding Cost?
The good news is that costs are available for almost any budget, but, of course, the final cost depends upon the venue, decorations, catering and other services that you have opted for. Register yourself and access our Budget Estimator to get a rough estimate of the budget.
What are the timings for the usage of hall?
For Mahalaxmi Mantap Timings wil be : 5:00PM to 5:00PM the next day
When should Shashtipoorthi be performed ?
a. After completing 60 and before 61st birthday
b. Same for Bheem Rath Shanti (70), Vijay Rath Shanti (75) and Sadabhishekham (80)
What if we want to remove Arundhati rooms from MM package?
a. Yes, it can be reduced. Please add this request in the enquiry form
Can we have additional rooms? What will be the cost?
a. Yes, drop us a mail at [email protected] or select from services in the portal to add additional rooms
Can we have the dining hall with Gargi hall? What is the cost?
a. Yes, it can be added if available. Please browse through the packages post logging in here vaidicpujas.org/login
Anything we need to bring for Upanayanam
a. Package includes Puja Samagri, you can pay directly to the barber during the event
How much time it takes for Pujas like Upanayanam
How can we see venue ?
a. For virtual tour , do visit the website and click here
décor prices subject to change
Contact Us for Enquiries and Bookings