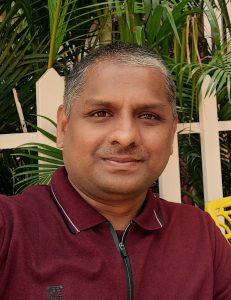 DR. SAMIEER FATTEPURKAR
PUNE, MAHARASHTRA
Journey with Art of Living
DEVOTEE AND VOLUNTEER FROM LAST TWO DECADES. PUBLISHED THE RESEARCH ON "THE IMPACT OF SUDARSHAN KRIYA ON PALM LINE"  AND A SHORT CLIP ENTITLE "HOW SUDARSHAN KRIYA CHANGES YOUR DESTINY".
Initiation and Credentials in Jyotish
HE HAS RECEIVED DOCTORATE IN BIOCHEMISTRY AND HASTA REKHA SCIENCE.  GOLD MEDAL FOR OUT STANDING CONTRIBUTION IN THE FIELD OF  HASTAREKHA SCIENCE PARTICULARLY IN MEDICAL PALMISTRY BY JYOTISH VISHWA VIDYAPEETH.
                                     EXPERTISE - VEDIC AND MEDICAL PALMISTRY


                      For Jyotish / Vastu consultation:

 [email protected] / +91-8095766657