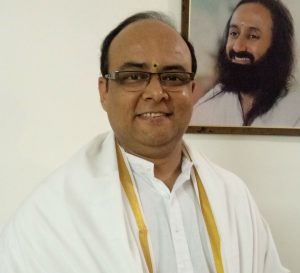 Jitesh Patel.
Head of Archives/ Admin-HR Sri Sri Publications Trust Video Department
- Actor/Writer/ Director. Theater artist since last 39 years. - Transmedia Best Writer 2011 for Gujarati Serial "MotiBaa" aired on ETv Gujarati - Nominated 5 times for Best Screenplay and Dialogues for serials of Star Plus and Sony TV during 2007 to 2009. - Best Actor Awards for Inter-collegiate competitions. - Best Director Awards at South Gujarat University Youth Festivals and State Level Competitions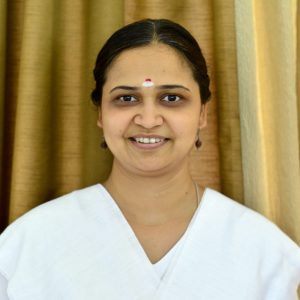 Nityabodha ji
Bramhacharini Nityabodhaji is an excellent teacher blessed by Gurudev with deep knowledge of shlokas, precise vocal intonations and correct pronunciation in chanting. She brings out the profound wisdom and essence behind each shloka with simple and meaningful examples and their real life applications. Under her divine presence and guidance learning is a blissful and fulfilling experience. One can feel Gurujis presence and blessings through her chanting courses.